Dear Diary: March 2nd 2019.
We must never be too big to show empathy.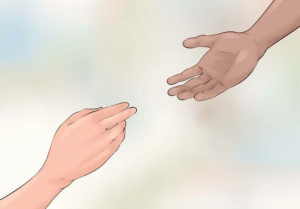 Just because I can be jagbajantis with my schedule, I made myself and Sam walk into the Red Cross Society Orphanage Home two hours earlier then the Lagoon Service Project team. No thanks to my selective hearing and Sam just had to suffer for it.
Like always, I really like to mind my business, but somehow Doc. has sha sworn never to let that happen. She meddles in my business and Yes, I like it. It's her way of making sure I have not gone haywire in this Nigeria. But, there's a problem. It is this my auto-pilot mode. It just gets me into trouble and swifts me out of it! You know what happened ehn, even though Doc had called me earlier in the week to inform me about today's event, I don't know how I generally succeeded in barely listening to all she said. It's like my guardian angel left me with an impaired hearing aid that resulted in selective hearing. All I recalled was Makoko, Saturday, Teen girls, be there.
I know that I am not called to deal with teenage girls. I really like to handle children, but with teen girls, only one person can do the job – Sam. Did I ever tell you that with Doc. and Aunt Chinasa, you can never be prepared? Just go with the flow because they will scatter your plans and place destinies of children in your hands and then remind you that Our Lord will ask you to account for it. So, when you remember you are working for God and humanity, and particularly that Wavecrest is involved, I can assure you, you will stand well well. I am darn sure Sam can handle that. I scrolled for Sam's number on my phone and sent her a post saying Makoko, Saturday, Teen girls, be there request. Sam called to ask what this "Makoko, Saturday, Teen girls, be there" thing was all about. I tell you I became like the ruling party in Nigeria – evasive.
Lass Lass, I dragged Sam along with me. That was the plan. Sam is my mentor, a fierce lioness, we are the landlord daughters. She has got to be there to make us claim more souls for our Lord. She didn't know what she was getting herself into, neither did I. I trusted Doc. and I knew it was to make a positive impact.
Because we were ahead of schedule, we had no choice but to introduce ourselves ahead of our other team members. Hmm! The following hours blew my mind.
I know no one can take the place of parents in the lives of children, and I also know that no matter how hard parents take care of other people's children, it can never be the same as It is innate to yearn for your own, or even a semblance of it even in impossible circumstances.
For this, everyone with one or both parents should be eternally grateful to God. Parents are irreplaceable.
To the older children who already know how to handle their emotions, it was no biggie that others have somewhat taken the role of their parents, but for the younger ones who are still trying to know what kind of place this world is, every hug, kiss, tap on the shoulder, whisper, smile, nod, wink and laugh matters a lot. It obviously made them happy and boosted their self-esteem, saying in ways words can never express that we really care, that we are humans, that we know they exist, that we are equals, that we all have a purpose, that we all must be enabled to achieve our goals, and above all, that we dare to love them just the way they are.
Not knowing where to start from…. we met the jolly good fellows. Gbemisire and Ramadan Jnr. Gbemisire is the attention seeker, that lovely child, the one who is always happy so long as you carry her and make her giggle, all is well with the world. She just wants to be hugged and thrown into thin air and be caught. The minute you turn your attention to another child however, Gbemisire becomes something else. She can become very naughty and throw you some backhand slaps or spit on her palms and rub it all over you. What this means, I know not, but so long as I'm not the victim, no problem. I laughed at Sam, as she suffered this fate. Gbemisire dealt with her very purposefully with the aim of paying back Sam for ignoring her, hehehe!
Ahaa!!!
Ramadan Jnr..he is the clean jealous lover. Immediately Gbemisire ran towards Sam, his shoulders visibility slumped, he felt he had lost the battle and then he sighted me! He ran furiously towards me, took possession of my arms and laps and eyes and hugged me till I was exhausted. The only time I got to breathe was when he had to wipe his hands, legs or nose of some imagined dirt. I wonder where this three-year-old in a place like this got the character trait of being so clean. Hmm, don't they say every child come with their personality straight from heaven? Well, this one sure did.
And there was Segun the super clingy one. He starts to touch you with one finger, then two, then one palm and finally both hands. You know, the araldite super glue that holds things together? That's Segun. He won't let go without a tantrum and force from the matrons. He just doesn't see why he should let go.
Then the cute girl Eniola. Everywhere you find children, there will always be that child that is perfect. They look perfect, walk perfect, smile perfect, speak with such perfection, I won't lie, she epitomizes perfection, and everything called graceful.
Others just looked so similar and very mischievous. Hey you, get down! Don't touch that! hey don't put that thing in your mouth! Ahan, I said come down from there! If you fall, you had better not cry! Aunty clean my nose! Aunty hold me! Aunty I like your neck chain! That was how one of the naughty ones pulled at my neck chain and broke one part (I almost cried, but it kind-of made it look cute in a very different way). Another one kept dusting everything on Sam's jeans….. Sam became a living legendary dustee to be dusted on…..hahaha!! that was when it dawned on us that they were just testing our patience and exhibiting the spirit of Tom and Jerry. We needed to escape.
while the children began to have lunch, we realized we were almost exhausted. The service project Team arrived on time. We welcomed the team to the Home. Immediately, our work for the day started, as we divided ourselves into Teams A,B,C and D with two team leads per team.
Sam and I were to lead Team B. Have I mentioned that I met three Queens that day? No? Well yes, we were privileged to meet Queen Esther, Queen Adaeze and Queen Amira. These girls are awesome. They were almost the ones who best showed us that we must never be too big to show empathy. They showed no air of irritation or that i-don't-care attitude or why-should-i-do-this attitude. They gave their all, in the best way they could. And, to me, it was a whole lot more than money can buy.
I heard Doc. dash out instructions to all the teams. She finally said, we might not be able to clean the whole of this place, but whatever spot is assigned to you, ensure you do your best and make it very clean, we have only 1hour. All I could picture in my mind, was my secondary school labour and house captain prefects. Those ones, taaaaa!!!! their job was just to be giving somebody portions to clean, as though one was born with the cleansing power to make things spotless. I rolled my eyes in their sockets rebuking the damn thought.
We immediately set to work, dusting, sweeping, mopping, packing and clearing all manner of dirt as far as the eyes could see. Because Major General Doctor Nkechi Asogwa was in charge, we must keep to time, making the environs clean, nice and tidy.
Then the Team had to entertain the children, I was really lost about what to do as there were different age groups amongst the children, but I was sure Sam would come up with something. So, I jejeli stepped out of the circle of girls unnoticed.
Sam being a born leader, made all the girls come together and they brain stormed. It was all about making the children happy. After sampling all opinions, they decided it was going to be a game where a team member will come up, say their names and what they want to be (real or fictional). They'll explain their preferred career path, and everyone cheers on (of course without the pom-poms). The goal apart from entertainment, was to explain various career paths to the children and open their minds to aspire great things.
Queen Esther set the ball rolling……
My name is Esther…….
We responded, Hi Esther!
I want to be a dancer.
Yayyyyyyyyyyyyy!!!! Go Esther, Go Esther, Go Esther, Go Esther... and Esther gave some killer dance moves. We cheered and laughed. Most of the kids got involved, save for the very little ones.
The part that made me laugh and melted my heart was when Queen Amira stepped forward and said she wanted to be a singer.
My ears popped out like those of an elf expecting some opera or massive choir songs. Instead what Amira did was like giving me a slap on the face. Guess what It was? You just won't believe it. It was *Twinkle Twinkle Little Star, How I wonder what you are…*
What melted my heart was not only her rendition of the nursery rhyme, but the fact that, she went all teddy bearish and acted out the whole nursery rhyme, with her hands on her face, above her head, with this giant smile. The kids were hysterical with happiness as though someone just tuned in to cartoon network. All the disappointment crept out of me, the same way Jesus rebuked the Legion and they fled into the bottomless pit. She didn't think about her voice or how good she would sound, she went all out for the kids, sang and demonstrated. Dear Diary, you won't understand, only three-year-old's will. There is no child on earth who wouldn't love the song.
Another team member took the cue from Amira and sang the famous Barney and Friends song of * I love you, you love me, we're a happy family, with a great big hug and a kiss from me to you, won't you say you love me too* The Lagoon Service Project teen girls had got the children enchanted. I was too.
Two things bothered me the most, one girl who said she wanted to be a hair dresser. It touched my heart. A hair dresser? My eyes almost popped out. But, then again, this is 2019. She put in the right path, it could be a great channel for the girl, as I know we pay a lot to make great hair styles. So, I said a silent prayer with great hopes that this would be a dream come true and not one born out of the very fact that this child has limited herself to the option of settling for less and given up on herself having wild dreams that she too can change the world. Then, I got worn out by all the boys who wanted to be footballers.
I consoled myself with the thought again that this is 2019 where children are not scripted to wanting to be doctors and engineers and lawyers, but to be any darn thing their wild hearts wants. Because I have trust issues, I also said a silent prayer that God make them engineer footballers, doctor footballers, and or great footballers like Neymar. Too bad I don't even know who Neymar is, I sha know crazy football fans, use to call his name all the time. And, it sounds like a name that carries bags of money. Because I can be prayer annoying, I said another prayer; Dear Lord, don't disappoint any child here, because Tolu once posted, Man proposes, Life rearranges the illusion of control.
Then, I remember Eniola the child who carefully listened to everyone but said her mind. That blew our minds from a four-year-old. Eniola wants to be a nurse to take care of people and a dancer. I said, Amen! The matrons were so pleased to know, one child seem to appreciate their work and see it as a worthy career.
After we had gone round the Team and children, we settled for a dance competition.
I don't know how Sam does it, yet again she divided us into two. Amira and Adaeze if I recall correctly, pacified Rahaman Snr. who was moody because someone had stepped on him badly, with the hope the dance would lift up his mood. It sure did.
One would think it's like what went down in the Bronx in New York, we had it better. We danced by ourselves, for ourselves to ourselves all manner of dance moves that made sense and made no sense, all to my amazement. But again, they danced that yeye dance step called shaku-shaku, as cute and annoying or imbecilic it may prove to be, I still detest it. Though I'm probably the only one in Nigeria who doesn't understand the dance move or doesn't appreciate it, I make no apologies. There are many things I really don't understand in 2019.
We were all exhausted after we had danced and danced and oh, I remember Mary. She gave us some nice dance steps, I think it will take a whole lot more of oxygen from me to move like that. God bless Mary!
We must never be too big to show empathy particularly when we are in certain environment because we might never know who our actions may transform positively for life. We will never be able to fully comprehend what another person (young or old) might be going through, we will never be able to fully appreciate how our actions may bring unfathomable happiness, self-convictions, boost self-esteem and most importantly change destinies in the life of people, particularly orphans. We can never know the depth of their loss, but we can always be the light shining through the darkness of their lives by being human.
I sincerely take out this time to appreciate Esther. You are the Queen of all Queens. The Queen of them all. If you ever get to read this, never forget, "You are who you are. Don't be ashamed of yourself. At all. Surround yourself with people who cheer you on. You are valueless" and though you don't know me, I am cheering you on, all the way, for the rest of my life.
The most painful part about this journal is that Doc. made me sit and start writing this entry like it is a jail sentence and I had to serve the punishment for God-knows-what. I am glad she did, like always, had she never insisted, I wouldn't have written this. If I did, knowing who I am, I most likely would never have completed it. I love you Doc. My pumpkin!
Lastly, to Wavecrest; thank you so much for volunteering to direct the Lagoon Service Project Team. Last Saturday was wonderful, and I bet the Nigerian Red Cross Society Orphanage Home really loved working with you. I know it was a lot of work, but I don't think anyone could have done a better job. I am so happy we shared our talents with you. I keep learning that we make a living by what we get, but we make a life by what we give.
PS: Sam, I know I can be annoying when I write this long, but if you made it to this line, know I love you.
Good night tweeps….oops!!! sorry……this is not twitter.
Bye!