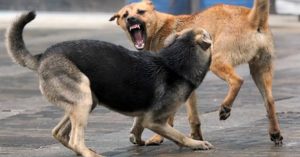 Dear Diary: 21st February, 2019.
My name is Ashake and this is my story with the mad stray dogs.
We have a useless neighbour with annoying straying dogs.
Due to the malfunctioning of my car, I must either hitch a ride to work or be late. Being late is not even an option, because when it comes to Ikorodu, you can never predict your commute time, talk less of estimating the extent of your lateness. So, you must set out early.
I had to leave the house at 5:45 to join the colleague who I was hitching the ride with. She swore to leave home for 6am sharp to avoid Ikorodu's traffic. Ahan, if na me, I go still do 6:50. Ewor ni ti 6am bayi? I cried silently.
I asked my sister what I was going to do? Considering the fact that those useless dogs belonging to one of our neighbours would be at the T- junction I had to pass to wait for my ride.
No one can blame my neighbor, he has been the victim of one too many burglaries. But, why must I be the one to suffer for some other person's misdeeds? Abi, which one be my own now? Why should I be free from worrying about somebody robbing me, but legitimately fear two vicious local dogs belonging to one Mr. Lagbaja? I don't even know the neighbor's name and I don't care sef!
After all, he is also the one that has a big tree covering his big mansion. Abi, he is a ritualist? What is that man's problem sef? Ironically, some people say you shouldn't be afraid of local dogs! But, these ones are from the pit of hell. They always lie down leisurely in the middle of the road across their owners' gate, as if their owner also purchased the street with his house. And when the dogs want to annoy you further, they invite other stray dogs and have a tea party in the middle of the road. If you were in your car, who'd care? You can just crush them and act like nothing happened or if it was during the daytime, you would just jejeli walk with the other neighbours to avoid a confrontation with those devils. But at 5:45am, I knew I would meet them. I, Ashake, was badly tormented.
Awero (my sister) asked me what the heck was bothering me? I told her my worries. As a fellow sister in the worry kingdom and the queen of the bravery clan, she decided that the simple solution to my problem would be for her to see me off in the morning without informing our parents of the problem (after all, we are adults), saying she intended to take Nora (our own dog) for a walk. The plan was that she would see me off to the bus-stop where I could take a bike to join my colleague. Aaah sweet relief! Awero, our younger ones will pamper you.
Thank you.
P.S
I forgot to add, Awero's Nora is an unforgiving bitch.
She has refused to acknowledge any other person apart from the members of our nuclear family who have been caring for her 6 days after she was born. Our help has been with us for 7 months now, and this wicked Nora still growls at her. I was very happy that she would now have other dogs to growl at although, I was seriously scared about Awero and Nora's return trip. What if it turned into a doggy ija igboro (street fight)? this our obodo oyibo dog that has never faced other dogs before, except at the Vet. Now we want to turn her to a street urchin, and we moved to this area just two weeks ago.
Well, at least now we sha have a plan…..we all went to bed.
5:45am…Myself, Awero and Nora, began the eternal walk of 12 minutes to the bus stop using the torch light from our phone to see. In spite of the fact that everyone knew I was a badly scared pumpkin, I had to ensure that the coast was clear by shining my torch light to the back. Nora and Awero were to be the compass heading north, till we got to Mr. neighbours' house.
Chai! Hell, hath no fury like dogs claiming territory.
Before we got to Mr. neighbour's house at T-junction, Awero was strutting and cat walking as though saying, dan boro ba sege! Nothing fit happen jare.
And this our damn dog Nora, just couldn't stop sniffing the floor, I suspected she was smelling the urine trail made by the other dogs. I was extremely irritated and was saying in my mind Nora, is this what we brought you out here for? To sniff the ground? Iwo aja yi? Don't let us become a banquet to dogs o!!!
before I finished my thought, I looked up and what did I see at the T-junction if not a set of four eyes. Wawuu!! These were no cats' eyes, it had to be dogs, then they started to bark so furiously, my heart began to palpitate like it was struggling to escape from my chest! The way those dogs were barking, anyone would think we were burglars.
Emagbami ke!
This foolish Nora did not even take cognizance of those terrible dogs that were barking. She and Awero just kept on walking like they were going for morning exercise in their father's peaceful estate. I made sure I kept up with their pace, because believe me, no one wants to be left behind in such circumstance.
I told Awero, you see what I've been telling you? Those dogs are demonic. Awero said, I always classify them as local dogs incapable of anything, but their owner has definitely got to be giving them something to eat at night. These are no ordinary dogs'.
The barking intensified and though I couldn't see clearly, I was about to drag Nora's tail that, has the angel that visited Zachariah paid you a visit? Biko won't you do something? I immediately heard Nora's proud growl…the kind that befitted her stance on the street, the kind that speaks volumes, that growl that says…I pass in peace if you want peace but if you give me trouble, I'll give it to you double!
And so we passed the neighbors' house. I breathed at last, but something told me, you don't brag past an animal's territory and expect to be forgiven. My inner mind told me to keep looking back.
Nothing!
So, we passed and got to Baba Olowo's corner piece house (we call him Baba Olowo because his wife is ready to tell every Tom, Dick and Harry, that her husband is an Olowo) when suddenly! I did not even see anything, I just felt the breeze. You know that kind of air, when the whole multitude in the set of Jumanji is after you.
Awero felt it too.
Apparently, the dogs allowed us walk some distance, intensified their strength and came after us with such force that all we felt just before they got to us was the breeze of their closeness. Imagine feeling the breeze of animals without seeing their bodies.
I panicked. I imagined myself as meat for the dogs. I imagined myself in the hospital with blood and flesh everywhere, with wounds that the pictures will cause the internet to crash, I imagined the caption of the news, "Ashake was eaten by dogs on her way to work" all in that nano-second. The bloody dogs were upon us, Awero screamed "get back"! All I did was die in me. What else could poor little me do? I was frozen to the spot, I just gave up and expected teeth on my skin.
I have known Nora since she was 6 days old and I know she always barks and growls and does plenty gra gra, but never ever have I seen nor heard her bark like she did. I wasn't sure which of the dogs to fear. I was petrified. Paralysed. Hell had just been let loose.
Nora stood like Simba the Lion King. Being a big dog, and I and Awero being two skinny people, she was able to stretch herself across us like a barb wire to wade off any attack. Nora stood like a warrior king, born to defend and rule.
Awero kept shouting get back.
In my mind I was like, us or them or who?
Actually I wasn't capable of processing any information. I was shot to pieces with fear.
All I remember was Nora dragged herself out of the leash Awero was holding and the earth under which we stood shook, there's not going to be an earthquake right? I asked myself.
Nora gained ground and chased those dogs as far as our ears could hear (as our eyes couldn't really see anything).
Silence reigned supreme.
I still couldn't find my voice.
Would Nora come back?
Would she be shot?
Would those dogs eat her instead of us?
I let my shaking body cling to Awero, at least my body should find support if we were going to stand still at this spot till daybreak, because by this time, we were 007; at the point of no retreat, no surrender.
Then I heard her footsteps, I was sure our Queen was coming back to us. Relief engulfed my soul. I am the only person in my house who used to admire Nora from afar, because I wouldn't touch her or come anywhere close to her.
However, the adrenalin in my body made me forget all my set boundaries, I knelt, kissed and hugged Nora for saving me. She stretched and did that playful thing with her two front legs and I sha was rubbing my hands all over her body, until I realized I was feeling that cold nose and tongue go over my face like a million times, my love for her abruptly ended and I remembered I am so scared of her and want nothing to do with her, unless from afar.
Awero kept on saying good dog, Nora good job. I was almost irritated with the praise and the dog's catlike stretch and looking for more pampering. I informed Awero, we had better start going, as I would be late to work.
With Nora walking like Simba, every other pedestrian had to move to the extreme right of the road to exercise their freedom of movement, while Nora scowled at every person defiantly, like she was ready to give anybody another chase.
The doubting Thomas in me still made me look back, should there be another emergency.
We got to the bus-stop and I was so glad for myself. But I worried deeply about Awero's return trip to the house.
When I got to the car, my colleagues were wondering why I was late. I smiled like a chessire's cat. I picked my phone and called Awero to know if she was safe. Awero recounted how she picked some stones like David did against Goliath, should in case the dogs came at her again, but immediately they passed Baba Olowo's house, Nora growled and barked and was boiling mad at the slightest unwelcomed movement and before she could say Jack Robinson! They were safe at home. I sighed with relief.
My colleagues kept teasing me and saying why couldn't I really tell them what the problem was gan-gan with this man matter. They were just jumping to conclusions anyhow that one "HE" made me uncontrollably happy so early in the morning. Being that I too was exhausted to recount the story of the horror movie that i just experienced, I smiled mumu-ishly at their nonsense, while I caught my breath. Who man epp? Shior!
My mind was just playing out various scenarios with various headlines, "Lagos worker bitten to death by PDP dogs" or "Two sisters, chased by APC's dangerous dogs in Ikorodu" or "The dogs have come again, Retiree's children torn to pieces by stray dogs". Tufiakwa!
While my colleagues teased me unceasingly about my discreet lover, I smiled sheepishly at their ignorance as I continued conjuring bizarre thoughts.
If only they knew!
They would be pampering me by now or giving opinions on how to sort the matter of my nonsense neighbour.
All I know is, Awero's Nora is Bae!
I am soooo darn proud of my sister's dog.
She is the Queen of them all.
Peace out!